Skills Training for Helping Professionals

(Authorized and Adherent Training)
Learn the skills your clients are learning.
Learn how to teach the skills.
Learn how to do diary cards.
Learn the rules of DBT skills training.
Presenters: Anne Gresham, RN, CNS; and Chris Kvidera, LICSW
Dialectical Behavior Therapy (DBT) was developed by Dr. Marsha Linehan, PhD of the University of Washington. It is a research proven method for treating the most difficult clients; i.e.: borderline personality disorder, co-occurring (dual diagnoses) disorders, and other personality disorders. The goal of DBT is the achievement of a quality life rather than the prevention of crises.
Next Training: November 13-15
Register for Skills Training Workshop
Skills Training Registration: 8:30 AM
Skills Training Workshop: 9:00 AM to 4:30 PM
 $575.00 Tuition*

This training will be live online through Zoom and will be identical, in content, to our previous in-person workshops.
Upon registration, you will receive an email with a link for payment options. Cancellations received at least 10 days prior to workshop will receive a full refund if paid by check. Credit Card payments will be refunded after 5% processing fee. Cancellations received after that date will be charged a $25.00 cancellation fee. Students receive a $25.00 discount with student ID.
CE Hours: 19.5
Participants will receive a certificate of completion at the end of this workshop.
Workshop Location:
Online through Zoom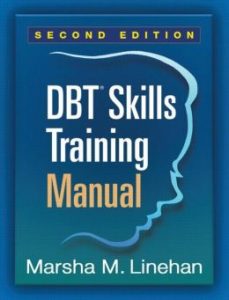 Book Required for this training:
Please have this book handy.
This book is not available at workshop.